Bug Off

®

Instant Screens Now Come in 14 Standard Sizes to Fit Most Doors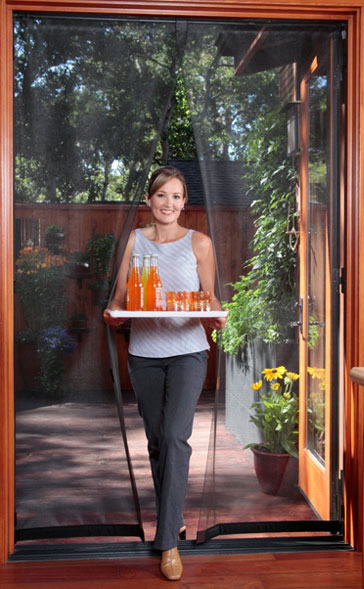 Bug Off Instant Screen Door is an affordable way to keep insects out of your home while enjoying cookouts, parties, and outdoor get-togethers. It's made with durable USA mesh and magnets and is rated the highest quality instant screen by consumers.
Bug Off Screen is an attractive, frameless screen curtain that installs on a spring tension rod inside the doorjamb. It can be installed in about 5 minutes without tools, or damage to the door frame. It uses high energy magnets sewn into the center and bottom to provide hands-free entry and exit for people and pets.
Custom Screen Doors for a Customized Look
One of the most common trends in new home construction today is building larger-than-average doors. It can be impossible to find a screen that will work nicely with your custom look and fit the door opening perfectly. We make 14 standard sizes and custom sizes for single doors, sliding glass doors, French doors and tall 8' doors – more sizes than any other manufacturer. Regardless of what size of opening you have, you can get the screen door you want for the insect protection you need.
Here is a full list of standard sizes that you can have shipped to your home today:
30" x 80"
32" x 80"
32" x 96"
34" x 79"
36" x 80"
36" x 84"
36" x 96"
48" x 80"
60" x 80"
60"R x 80"
64"R x 80"
72" x 80"
72"R x 80"
72"R x 96
We can also make any custom size Bug Off Screen up to 72 inches in width and any height. You can have custom Bug Off Screens made for your home, RV, cabin, trailer, boat, barn, or shed. Bug Off Screen is the smart and affordable solution for screening all your standard and custom doors.
About Bug Off Screens:
Bug Off Screen started the "instant screen" industry more than 20 years ago and continues to be the leader in quality and customer service. More than a million Bug Off Screens have been sold worldwide.